As the July 4th fireworks fade from the sky, a contingent of St. Louis and jazz fanatics from over 30 other cities will prepare to enjoy the sparks flying a little closer to the ground.
The seventh annual mess around River City runs over the weekend of July 5-7 and features six local jazz and swing groups for a dancing audience. The composition of the group faithfully reflects the long-standing and diverse identity of St. Louis jazz music, with each group representing a necessary flavor of dance jazz music.
The weekend begins on Friday July 5 with the performance of The Sidemen in the architectural hall of the City Museum, an inimitable downtown attraction and a source of great civic and artistic pride in Saint-Louis.
Typically, dancers take turns gliding across the dance floor and sliding down the myriad of waterfalls placed in this urban playground. The Sidemen, starring veteran Eric Sager, produce grooves that range from the small group swing of Benny Goodman and Lionel Hampton – think "Air Mail Special" and "Flyin 'Home" – to the honked and hopped swing of Louis Prima. There is no doubt that the dancers will perform their precious lindy hop, charleston swing and balboa steps. Following this dance event, revered local DJ Cindy Lyons will perform canned classic and contemporary swing music for a relaxed late night dance party.
In the realm of traditional jazz, the Arcadia Dance Orchestra will offer a treasure trove of arrangements from the 1920s and 1930s on Sunday afternoon under the direction of TJ Muller. In addition to a variety of popular hits from this period, the group will perform resurrected tunes by local African-American conductors Charles Creath, Dewey Jackson and Oliver Cobb. This effort to create unmistakably St. Louis sound and repertoire is what brings the motto of event producers, "Local Dance" to life. Dancers will be inspired to release their Charleston and other toddler-based steps, and can even use their best renditions of Foxtrot and Peabody.
Additionally, Muller's little band, the Gaslight Squares, will perform in the dreamy gazebo of the historic Lemp Mansion, a supposedly haunted monument associated with the infamous Lemp Brewery dynasty, on Saturday afternoon.
Banjoist Jacob Alspach switches to electric guitar for a more swing feel during this outdoor dance. Fortunately, there is plenty of shade and the adjacent air-conditioned shed provides a watering hole and respite from the heat.
Saturday night takes place at the historic Webster Groves Masonic Hall, one of those fraternal halls that for dancers are the halls of any North American city. A dance lesson open to the public will kick off the most crowded event of the weekend, and longtime favorite Miss Jubilee will provide dance music throughout the evening. The group is known for their territorial blend of swingin low jazz and blues, inspired by African-American artists such as Big Bill Broonzy, Victoria Spivey, and Stump Johnson.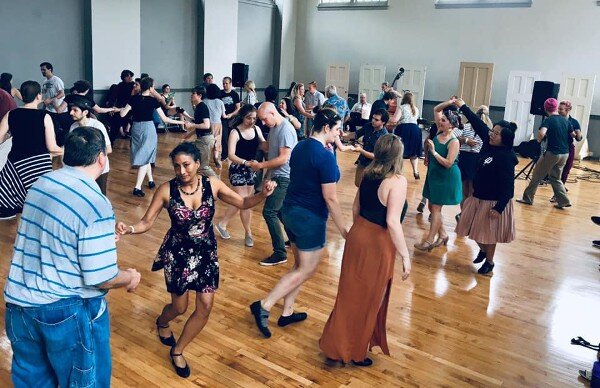 Two dance competitions take place at the Saturday ball. The first is a Short Showcase competition in which contestants, singly, in pairs or in trios, will present their original choreography to recorded music for a chance to win a coveted pass to the Nevermore Jazz Ball & St. Louis Swing. Dance Festival in November 2019. The second competition is a Jazz Battle, a one-on-one tournament style competition fueled by live music from Miss Jubilee. Competitors will be encouraged to dance improvised musically for a chance to win a cash prize.
When the main dance ends at midnight on Saturday night, the late night dance party begins at the dimly lit central studio in the Skinker-Debalivière district. Here, until nearly four in the morning, Sweetie and the Toothaches will cause a foot riot with their blues and swing. Their sound is not only suitable for the most popular swing pair dance styles, it is ideal for regional styles such as St. Louis Shag and Imperial Swing.
The River City Mess Around closing night features local legend Tommy Halloran and his band Guerrilla Swing in the cozy musical home called Focal Point in Maplewood, Missouri. Halloran's post-war jazz and blues have a magical originality, and with references ranging from Armstrong to Monk, showcases a rhythmic and tonal versatility that appeals to all fans of jazz and swing dancing. There's a reason this artist has been in the line-up since the start of the festival.
The first River City Mess Around was simply a group of dancers wandering from gig to gig, dance floor to dance floor, in a semi-organized fashion. Seven years later, it's a musical reunion that can only be experienced in St. Louis, Missouri.